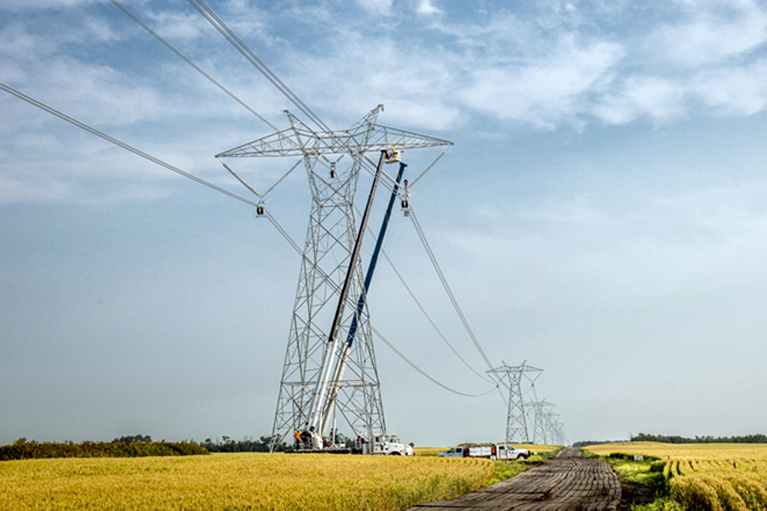 December 18, 2015 marked the completion of the longest electricity transmission line in Alberta's history. The 485-km, Eastern Alberta Transmission Line (EATL) which connects Brooks in southeast Alberta, to the Gibbons-Redwater area northeast of Edmonton, is also the largest project in ATCO's history. 
The new line will be a critical component of Alberta's electrical transmission backbone and will play a key role in bringing renewable energy to Albertans across the province.
In announcing the activation, Sett Policicchio, President of ATCO Electric remarked, "Today we celebrate the completion of a generational investment for Albertans, by an Alberta-grown company. This transmission line will reinforce our electrical grid for decades."
By reducing the amount of electricity lost during transmission, the efficient, 500-kilovolt EATL reduces the amount of power generation required, saving Albertans money and reducing future greenhouse gas emissions by thousands of tons.
EATL will also play an important role in the Government of Alberta's Climate Leadership Plan by providing the infrastructure required to move renewable wind and solar energy from where it is produced, to where it is needed.
The new line is already working hard for Albertans. Immediately following final testing and commissioning, EATL was able to assist the Alberta Electric Service Operator (AESO) in alleviating grid congestion, by moving 300 megawatts of electricity from southern Alberta to the capital region.
The nearly 500-km, 500-kilovolt line connects Brooks in the southeast, to the Gibbons-Redwater area northeast of Edmonton. The project took three years to complete, aided by the cooperation and support of Albertans who live along the line. In total, ATCO obtained more than 6,000 environmental review permits, crossing permits and other permissions while conducting 14 open houses and hosting 8,300 consultations with Albertans.
"I want to thank all of the residents who live near the line for their cooperation and patience during the consultation and construction of this project," added Mr. Policicchio. "This was the largest undertaking in our company's history and we could not have achieved this success without the cooperation of Albertans."