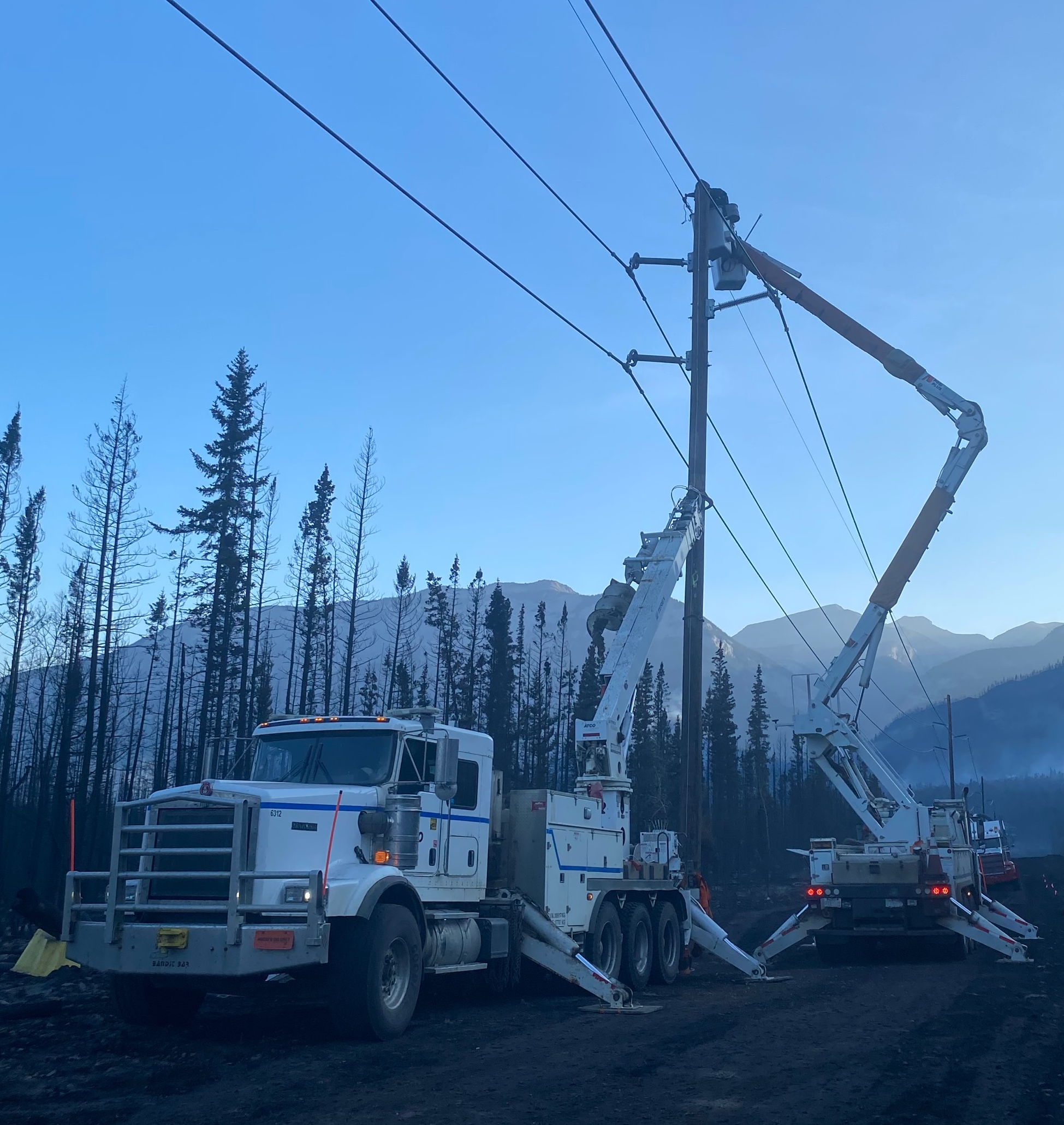 Municipality of Jasper & Chetamon Wildfires Update
LAST UPDATE: Thursday, September 15, 2022 (11:00 AM)

Yesterday our crews successfully restored power to the town of Jasper and the outlying communities. Again, we can't thank our crews, the Municipality and Parks Canada enough for all the hard work during the Chetamon Wildfires. As well, the residents who have been patient and understanding throughout this, thank you.
We will continue to have the temporary generator as backup and crews on site to monitor the situation. If you are without power, please try and reset your breaker. If you are still without power, please call us at 1-800-668-5506.   
We're still reminding businesses who have voluntarily acquired their own generator and have connected it to the ATCO side of your main breaker to let us know by calling 1-800-668-5506. We will inspect the site when the generator is removed to ensure the safety of your service and our system. Not doing so can cause additional risk to you and your employees. 
This will be our last update unless something significant occurs.
Questions and Answers
Q: How was ATCO able to complete the rebuild so quickly?

A: Originally, we estimated that repairs and restoration could take weeks. A lot of this depended on the changing wildfire conditions. However, working so closely with Parks Canada and the Municipality was critical in ensuring our crews were able to safely and quickly repair the critical infrastructure required to restore power to the town of Jasper. We also have crews that will be doing ongoing ground inspections over the next several days.   
Q: What measure is ATCO doing to ensure the community continues to have power while the fire is still present in the Jasper area? 
A: ATCO will keep the generators in place as a backup source of power depending on the ever-changing conditions of the wildfire. Our crew continues to work closely with Parks Canada and the Municipality and will remain in the Jasper area to monitor the situation. 
Q: Will this affect my electricity bill? 
A: You will still be billed for any electricity usage during the outage. If you were practicing energy conservation while we were on the temporary generator system, your electricity usage will reflect that. 
If you have questions about the different charges on your bill, you can visit our Understanding Your Bill webpage.
Q: If I have solar panels on my home or business, would I still receive credits when the power was being supplied by the generator power?
A: The power is running regardless of whether it's connected to generator power or the Alberta transmission grid. Your solar panels should still work and receive credits for the power they are generating.
RESOURCES
If you are still without power, please call 1-800-668-5506 or tell us online.
Media Relations for ATCO Electric:
Erin Newell-Lupien
Senior Advisor, Marketing & Communications
erin.newell-lupien@atco.com
Municipality of Jasper Resources:
Parks Canada