Shedding light on planned outages

Customers and communities count on us to deliver electricity to their homes and businesses safely and reliably. To do this, we have to schedule dedicated times to maintain, repair or improve our infrastructure. These dedicated times are called planned or scheduled outages. While we make every effort to minimize customer impact as much as possible when planning scheduled outages, temporary service disruption does occur during these times.

We like to compare planned outages to changing the oil in your car. Just like a car's engine, our infrastructure needs preventative upkeep every so often to maintain and improve electricity safety and performance now and into the future. In fact, many of our planned outages allow for crucial improvements we're making to strengthen grid resiliency, modernize infrastructure and restore power faster when outages do occur.
The graphic to the right breaks down the various types of outage work performed. As you can see, there is a large range of maintenance work that takes place on our infrastructure to keep it safe and reliable.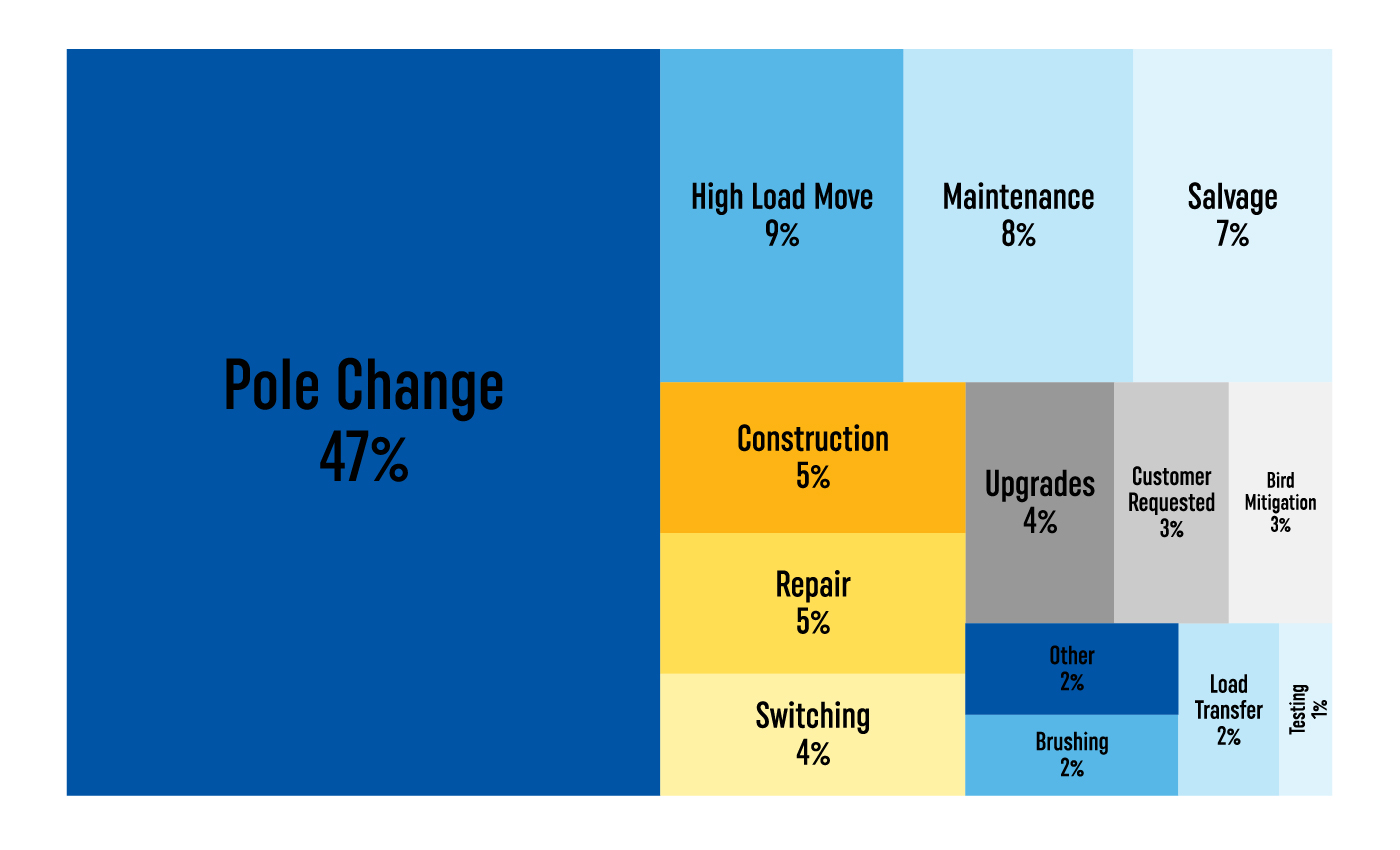 Don't get left in the dark! Get notified of planned outages
The best and most efficient way to get notified of a planned outage in your area is through the My ATCO Electricity app. Getting the app is as easy as 1-2-3! Here are just some of the great features that have been built in based on customer feedback:
Stay up to date: This is a one-stop-shop for customers to follow and track outage statuses in their area.
Get notified: Opt in for timely notifications about outages impacting their area.
Report outages: If you experience an outage, you can quickly an easily report it in the app.
Register multiple sites: Enter in and stay updated on more than one location.
Discover more: The Resources tab has information tailored specifically for our customers. A hub of articles, FAQs and contact information are available right at your fingertips, so you're not waiting for simple answers that you need right away.  
Submit feedback: We want to hear what's working and what's not so we can make improvements in future app upgrades.
Download the My Electricity App Now!

IMPORTANT

Make sure your retailer has an accurate email address and phone number on file for you! This will ensure you continue to receive planned outage notifications for your area.


 
In addition to the My ATCO Electricity app, customers can get notified of upcoming planned outages in their area through the following:
What to expect before, during, and after planned outages
Before
We do our best to give customers a minimum of five days' notice before any planned outage. It will be a call/email or both depending on how you have that set up with your retailer. That's why it's important to keep that information (i.e.: telephone numbers and email addresses) up to date with them.

During
ATCO crew and personnel may be in your neighbourhood getting ready to complete maintenance and upgrades on our infrastructure. This may include repairs to lines, poles, streetlights and substations. During an outage, you may be left without heat/air conditioning, lighting, hot water and use of electronic devices and appliances. To prepare for this, refer to these outage tips.
After
Once you have power back on, complete the following:
Plug back in or turn on any appliances or electronics you disconnected prior to the outage starting with essentials first (ex: medical equipment).
Check larger appliances like your furnace or fridge to ensure they are working.
 Reset digital clocks, alarm systems and other devices. 
Frequently Asked Questions
Don't Get Left in the Dark!
Download the latest version of the My Electricity App to get notified about any outages in your service area.